Tips Om Je Bruidsjurk Optimaal Te Bewaren
By Ryan Kh
January 10, 2018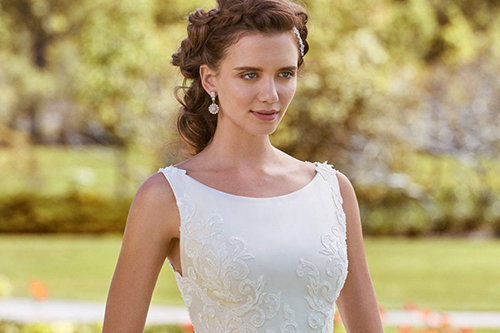 Een bruidsjurk is je meest waardevolle kledingstuk. Niet alleen omdat de kostprijs ervan duurder is dan de doorsneejurk maar ook omdat het een grote emotionele waarde heeft. Een bruidsjurk wordt daarom meestal bijgehouden hoewel je ze maar één keer draagt. Dit geldt ook voor de bruidsschoenen al kan je die nog wel afdragen als je het beetje slim aanpakt. Probleem bij bruidskleding is dat je de jurk niet zomaar in de wasmachine kan steken. Ook bruidsschoenen vragen vaak een ander onderhoud dan andere schoenen. Bewaar je jurk in een kartonnen doos bovenop de kast dan maakt het niet uit of er vlekken opzitten van het feest maar wat als je ze wil etaleren als superromantisch decoratiestuk in de slaapkamer? Dan ziet ze er toch best weer proper uit.
Voorkomen is beter dan genezen
Niets erger dan op je trouwdag je jurk aantrekken en zien dat ze helemaal verkreukeld is of dat er een vlek op is. Wees daarom heel voorzichtig met je jurk. Bekijk bij de laatste pasbeurt nog eens kritisch of je nergens een vlekje ziet. Als je ze afhaalt, leg je ze voorzichtig in de hoes in de koffer van de auto als die proper is, of op de achterbank.
Het is wel aan te raden om op voorhand de jurk thuis nog eens aan te trekken omdat het vaak een gepuzzel is om het juiste lintje door het juiste lusje te steken. In de winkel ziet het er zo simpel uit. Vraag daarvoor hulp maar wees heel voorzichtig om geen vlekken te maken bij deze pasbeurt. Doe ze daarna weer in de originele hoes en hang ze op.
Pas op voor make-up, kinderen en huisdieren
Je peuter die je nog een knuffel wil geven voor je het huis verlaat of de hond die je komt begroeten. Allemaal heel lief maar de kans op een snottebel of een pootafdruk is zeer groot. Laat ze dus niet liefdevol op je afstormen maar buk je en geef ze een voorzichtige aai. Dat komt misschien wat afstandelijk over maar voor één dag kan dat wel.
Pas op met make-up. Omdat je de jurk pas zo laat mogelijk aantrekt, zal je eerst gemaquilleerd worden. Om te vermijden dat er make-up op je trouwjurk komt als je die over het hoofd moet aantrekken, kan je even een losse doek over je gezicht leggen.
Snel laten reinigen
Het is belangrijk om bruidsjurken snel na het feest te laten reinigen. Transpiratievlekken of vlekken van alcohol zoals rode wijn zijn veel moeilijker te verwijderen als je ze een maand laat intrekken. Een bruidsjurk laten reinigen is niet goedkoop maar dat komt omdat het niet gemakkelijk is. Probeer het dus niet thuis en steek ze al zeker niet in de wasmachine. Stiksels, steentjes en stoffen knopen zullen loskomen.
Verf je bruidsschoenen
Heb je witte bruidsschoenen in stof gekocht. Heel mooi en ook het meest gekozen schoeisel onder een bruidsjurk maar een dag na het feest zijn ze waarschijnlijk om te huilen. Gooi deze dure schoenen alsjeblieft niet weg maar laat ze verven in bijvoorbeeld zwart. Heb je in één klap een mooi paar om naar een andere feestelijke bijeenkomst te gaan, bijvoorbeeld het trouwfeest van je vriendin.